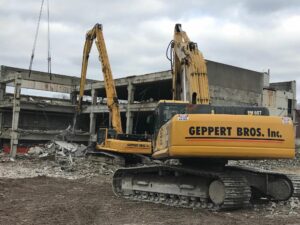 Since 1925, Geppert Bros., Inc. has made demolition projects a turnkey process —from deconstruction to recycling to disposal. Over the years, we have learned that it requires as much skill and knowledge to tear something down as it does to put something together. That is why we have worked hard to build a solid reputation for tearing things down. Our labor force is fully trained and is composed of qualified operators whose skills cover all aspects of work within our industry. Our Site Managers and Foreman have extensive experience in all types of demolition. Our office personnel are comprised of fully qualified Managers together with all levels of administration. Major industries served include pharmaceuticals, hospitals, educational, chemical, commercial, entertainment, industrial, institutional, oil and gas, and steel production.
Our state-of-the-art equipment is backed by a fully staffed maintenance crew and run by operators who take great pride in their workmanship. With years of experience behind them, our crew of drivers, laborers, and operators work as a team to provide you the comfort of finishing your project on schedule. Our estimating department will guide you to the most effective means, for your project. No matter how large or small the project, Geppert Bros, Inc. takes great pride in safety.
Geppert Bros., Inc. is proficient on meeting LEED (Leadership in Energy and Environmental Design) requirements – an internationally recognized green building certification system, providing third-party verification that a building or community was designed and built using strategies aimed at improving performance across all the metrics that matter most: energy savings, water efficiency, CO2 emissions reduction, improved indoor environmental quality, and stewardship of resources and sensitivity to their impacts.