Over 90 Years of Demolition Experience!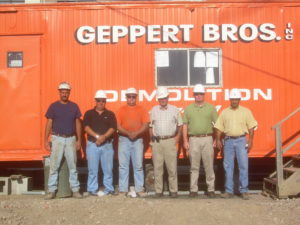 Geppert Bros., Inc., is a 2nd generation, family-owned firm specializing in demolition, dismantlement, and site preparation. We have the expertise and resources necessary to get any job done safely and efficiently. From entire city blocks, to stadiums, to bridges, to structures constructed of varying materials, we possess the knowledge, manpower and resources to handle all of your demolition needs.
Since 1925, we have been safely and efficiently dismantling and demolishing structures throughout the Tri-State Region, and thus Tearing Down to Make Way for Progress. Geppert Bros., Inc. is committed to providing a safe work environment for our employees and our customers.